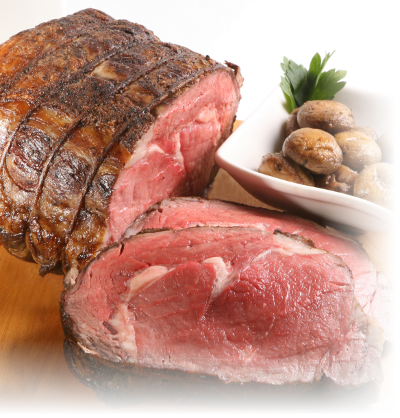 FRIDAY & SATURDAY NIGHTS
Prime Rib
Succulent prime rib of beef, slow-roasted 'til tender, cut to your order and served au jus.
16 oz. cut $27.99 • 12 oz. cut $24.99
Baby Back Ribs
Lean, meaty baby back ribs, dry rubbed and slow-roasted. Served with our homemade barbecue sauce on the side.
Full slab $29.99 • Half slab $20.99
Ask Your Server About
Tonight's Feature
Add sauteed onions for $1.50 extra
Add sauteed mushrooms for $1.50 extra
"Consuming raw or undercooked meats, poultry, seafood, shellfish or eggs may increase your risk of food-borne illness."
Dinner entrees include endless bowl of salad, warm bread, and your choice of French fries, broasted potatoes, baked potato, pasta, or vegetable of the day.
EVERY NIGHT
New York Strip
Lean and flavorful, this 12 oz. cut is packed with classic beef taste. A great choice for dinner, broiled to your liking – $23.99
Land & Sea
Classic New York strip steak broiled to your liking, paired with four butterflied shrimp – $26.99
Filet Mignon
The most tender of steaks, no bone, no fat. We'll simply wrap an 8 oz. filet in bacon then broil it or season it with Cajun spices – $26.99
Rib Eye Steak
A hearty 16 oz. cut of USDA Choice beef, broiled to order. A Sleepy Owl favorite – $24.99
Chopped Sirloin
Fresh ground sirloin broiled to order and served sizzlin' hot – $14.99
Teriyaki Chicken Breast
Twin breast marinated in our special teriyaki blend, grilled to perfection – $17.99
Broasted Chicken
Half a chicken, broasted crisp and golden outside, moist and flavorful inside – $16.99
Barbecued Ribs
Lean, meaty ribs, slow-roasted and finished on the grill with our sweet and spicy barbecue sauce.
Full slab – $29.99 • Half slab – $20.99
Pork Chop
A juicy 12 oz. thick cut bone-in chop, lightly seasoned and broiled – $17.99