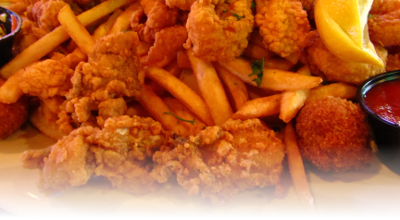 Sandwiches
Add bacon, grilled onions, mushrooms or
cheese to any sandwich for $1.00 each.
Ask your server about our Pretzel bun!
Priced below as sandwich only or platter with fries and coleslaw,
or substitute "Chef's choice" daily vegetable.
BBQ Sriracha Burger
8 oz. Certified Prime Angus Beef™. Start with our great burger patty, add candied bacon strips, sauteed onion, cheese slice, and our own special BBQ glaze, with just a little kick!
$9.49 • $10.99
Classic Owl Homemade Breaded Tenderloin
This classic sandwich made us famous! Hand-breaded or grilled fresh cut tenderloin, so big it won't fit on a bun!
$7.99 • $9.49
Cod Fish Fillet
Lightly breaded Alaskan favorite. Flaky and delicious
$7.79 • $9.29
Rib Eye Steak
Half-pound rib eye steak so tender and juicy. Brushed with Chef's custom glaze
$10.99 • $12.49
New!

Pulled Pork
Slow roasted, smothered with BBQ sauce on a Brioche bun
$6.99 • $8.49
Classic Reuben
Tender corned beef with tangy sauerkraut, Swiss cheese and Thousand Island dressing all grilled on rye bread.
$8.39 • $9.89
Philly Cheesesteak
Sliced beef grilled with sauteed onions and peppers, topped with melted provolone. Served on a sub roll.
$8.49 • $9.99
Cheeseburger
8 oz. Certified Prime Angus Beef™ patty cooked to your liking, topped with cheese and served on a brioche bun.
$8.49 • $9.99
8-oz Hamburger

$7.49 • $8.99
Patty Melt
8 oz. Certified Prime Angus Beef™ patty smothered in grilled onions and topped with Swiss cheese on rye bread.
$8.49 • $9.99
Cuban Deli Panini
Blend pull pork and sliced ham, add melted cheese with sliced pickles and special mustard. All pressed on deli sourdough bread.
$8.39 • $9.89
B.L.T. Classic
Super thick bacon strips, sliced beef steak tomato, leafy lettuce and rich mayo. you choose white, wheat or rye toast
$6.99 • $8.499
Grilled Chicken Breast
It's a natural, tender breast grilled to perfection, garnished on brioche bun
$6.99 • $8.49
New!

Fried Chicken & Waffles
Our hand breaded chicken breast fried to a golden crisp. Embellished between two Belgian waffles, plus special sauce
$7.99 • $9.49
Soups
served daily
Sleepy Owl's Famous French Onion Soup
A rich broth, thick with sweet onions, served steaming hot and topped with a crusty lid of melted cheese.
Bowl $5.29 • Cup $4.19
Soup of The Day
Ask your server about today's fresh selections
Bowl $4.99 • Cup $3.99
Platter Packs
Our favorite dinner selections served with French fries and coleslaw.
Broasted™ Chicken
4 pieces, broasted crisp – $12.99
Chicken Strips
Our own handcut tenders – $9.49
Cod Fish
Alaskan cod pieces lightly breaded – $10.49
Sides
add to any meal
French Fries

– $2.99
Broasted Potatoes

– $2.99
Soup

Bowl – $4.99 • Cup – $3.99
Tossed Salad

– $3.99
Applesauce

– $2.99
Coleslaw

– $2.99
Cottage Cheese

– $2.99
Classics
Chef's Salad Supreme
A leafy garden selection topped with chunks of ham and turkey, shredded cheeses, fresh tomatoes, chopped egg, home-style croutons, then choose your favorite dressing – $7.99
Lemon Pepper Chicken Salad
A generous blend of lettuces and garden vegetables, plus sliced avocado, topped with strips of grilled lemon pepper chicken, sprinkled with almonds – $10.89
New!

Herb Grilled Salmon Salad
Atlantic salmon fillet, broiled, blackened, or seasoned with lemon pepper, fanned across our baby lettuces with sliced avocado, chopped egg, sliced red onions and grape tomatoes. Choose a dressing – $12.89
Chicken Caesar Salad
Classic Caesar with fresh romaine lettuce, drizzled with Caesar dressing. Topped with blackened chicken and shaved parmesan cheese – $8.89
Fried Chicken Salad
Chicken strips, breaded and fried golden, atop a bowl of mixed greens with garden vegetables, cheese and black olives. Served with honey-mustard dressing.
Or request your chicken grilled – $7.79
Taco Salad
Mexican beef, diced tomatoes, shredded cheese, and sliced black olives with mild sauce. Sour cream served upon request – $7.79
Soup, Salad & Bread
Enjoy a cup of to day's soup teamed up with crisp endless salad and warm bread – $8.89
Cup of soup and a tossed salad – $6.59
Sleepy Owl Chili
Invented in Cincinnati, but we make it better! Meaty chili served atop spaghetti with chopped onions and shredded cheese – $5.49
10″ Lunch Pizza
Our famous pizza with one topping – $8.29
Additional topping – $1.59 each
Lite-Lite Lunch
Grilled cheese, your choice of bread and a cup of today's soup – $5.49
Shrimp Cocktail
Five large chilled shrimp nestled in shredded lettuce. Served with lemon wedges and zesty cocktail sauce – $6.99
Ask your server about today's lunch special!