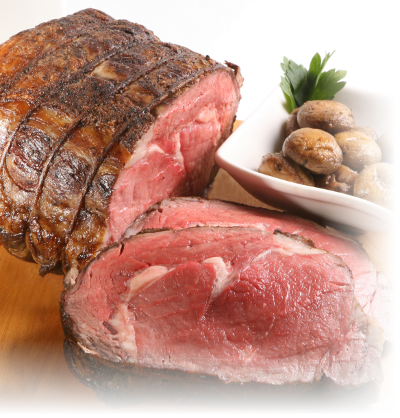 FRIDAY & SATURDAY NIGHTS
Prime Rib
Succulent prime rib of beef, slow-roasted 'til tender, cut to your order and served with au jus.
16 oz. cut – $31.79 • 12 oz. cut – $28.79
Memphis Style Baby Back Ribs
Lean, meaty baby back ribs, dry rubbed and slow-roasted. Served with our homemade barbecue sauce on the side.
Full slab – $32.99 • Half slab – $21.99
Ask Your Server About
Tonight's Feature
Your choice of extras: Sauteed Onions, Grilled Mushrooms, or Crumbled Bleu Cheese – add $1.50
Make your Baked Potato "loaded with shredded cheese, crumbled bacon and sour cream" – add $1.75
"Consuming raw or undercooked meats, poultry, seafood, shellfish or eggs may increase your risk of food-borne illness."
Dinner entrees include endless bowl of salad, warm bread, and your choice of French fries, broasted potatoes, baked potato, pasta, or vegetable of the day.
EVERY NIGHT
Land & Sea
USDA Choice 8 oz Filet of Beef grilled to perfection, with 3 large shrimp split, broiled, and served with lemon and drawn butter – $35.99
New York Strip
Lean and flavorful, this 12 oz. cut is packed with classic beef taste. A great choice for dinner, broiled to your liking – $24.69
Filet Mignon
USDA Choice 8 oz Filet of Beef. The most tender of steaks, broiled to your liking – $31.99
Rib Eye Steak
A hearty 14 oz. cut, brushed with Chef's custom glaze. A Sleepy Owl favorite – $27.69
Chopped Sirloin
Fresh ground sirloin broiled to order and served sizzlin' hot – $14.99
Apple Brie Chicken Breast
Sensational combination of fruit and cheese stuffed in a generous, baked chicken breast, topped with Chef's Béchamel sauce – $18.99
Broasted™ Chicken
Half a chicken, broasted crisp and golden outside, moist and flavorful inside – $17.69
Barbecued Ribs
Lean, meaty ribs, slow-roasted and finished on the grill with our sweet and spicy barbecue sauce.
Full slab – $32.99 • Half slab – $21.99
Pork Chop
A juicy 12 oz. thick cut bone-in chop, lightly seasoned and broiled – $19.99