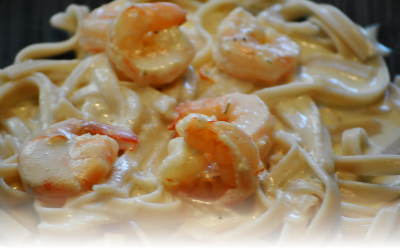 Pasta
Pasta entrees include our endless salad bowl and warm bread.
Shrimp Alfredo
Steamy pasta tossed with our rich, creamy, homemade Alfredo sauce, then toppped with plump sauteed shrimp – $17.79
Lobster Mac & Cheese
Sauteed bow tie pasta with fresh lobster meat, tossed in three cheese blend topped with panko bread crumbs – $19.99
Chicken Alfredo
An Italian seasoned breaded or grilled chicken breast completes this rich Alfredo dish – $16.99
Simply Alfredo
Fettuccini noodles tossed with our creamy, homemade Alfredo sauce – $13.99
Spaghetti & Meatball
Pasta and a large meatball, topped with our own Italian herb marinara – $13.99
Chicken Parmigiana
Fresh grated Parmesan cheese gives this dish its great taste. Topped with homemade Italian marinara over spaghetti pasta – $15.99
Classic Owl Pizza
At The Sleepy Owl, our pizza is almost as famous as our tenderloins! We start with a delicious fresh crust, add the toppings and serve it hot from the oven.
Featuring traditional Owl pizza! Ask your server!
The Big Owl Deluxe
The perfect choice for pizza lovers! Pick your size and we'll load it up with pepperoni, sausage, ham, mushrooms, green pepper, and onions
10″ – $12.79 • 14″ – $18.99 • 16″ – $21.99
Gluten Friendly Pizza
A delicious and gluten-free cauliflower crust, topped with our house made sauce and blended mozzarella!
12″ Only – $15.79
Each Additional Topping – $1.89
Create Your Own Pizza
10″ – $8.59 • 14″ – $10.99 • 16″ – $12.99
Each Extra Topping
10″ – $1.69 • 14″ – $1.99 • 16″ – $2.49
Choice of Toppings:
Pepperoni • American or Italian Sausage • Ham • Bacon
Mushrooms • Green Pepper • Onion
Black or Green Olives • Diced Tomatoes
Pepperoncini Peppers • Pineapple
TAKE OUT AVAILABLE
Pizza, sandwiches & dinner selections are always ready for carry out. In addition, if requested in advance, we prepare several items in larger portions for your family or group gatherings.